I'm really glad I worked so hard writing a lovely Mother-Daughter journal so I could be insulted by my 12-year-old.
(Confession: I really HAVE been struggling with 7th grade math)
But, all jokes aside, I created this book for moms and daughters to build a stronger, more open relationship. My daughter and I have been passing it back and forth for the past couple of weeks and I'm finding out things about her that I otherwise wouldn't have known.
For instance, I wasn't surprised that if she could get a job she would want to be a horse trainer or dog walker, since she loves animals. However, "airport worker" was a bit out of left field! Which prompted an interesting conversation.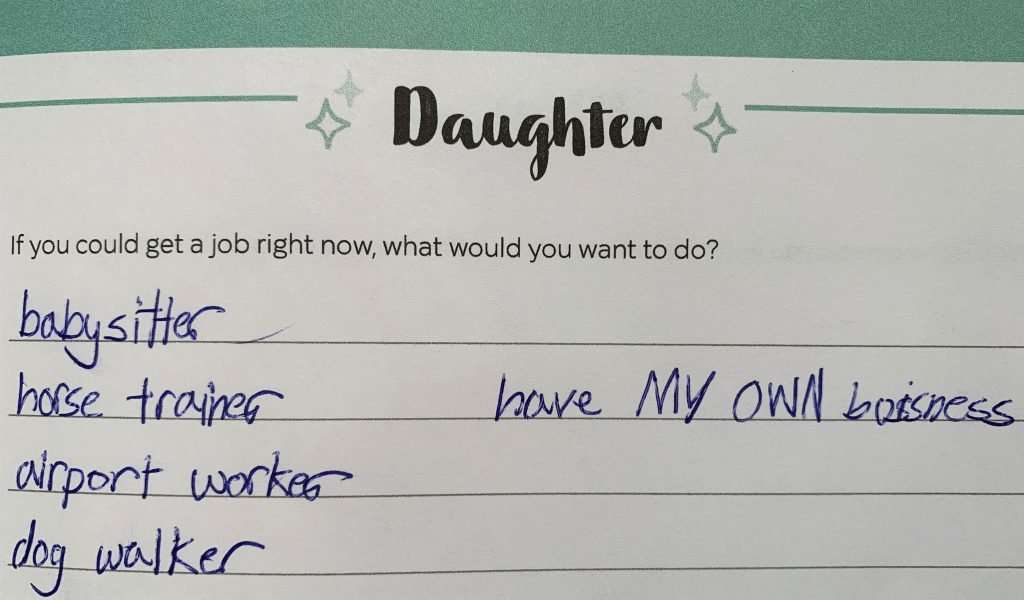 The words that come to mind when I think about my daughter:
And this is what she wrote about me. I love that she thinks I'm brave, because most of the time, I don't feel very brave. And I laughed pretty hard at "Always has the same shirt with 2 stripes". It's funny because it's true…I love me some 2 stripe shirts!
I wish I could deny this next one, but alas, the child speaks the truth…
Seriously?? She thinks all I do is laundry? Actually, that's pretty much true, boo hoo hoo.
And here's me with my 2 stripe shirt! Accurate, except for the fact that I do actually have hands in real life LOL!
Anyway, I wanted to share this with you all in case you know of a young girl and her mom who you think would enjoy doing the journal together. Think birthday or Christmas gift!
You can read more about it and/or order your copy here:
All About Mom and Me: A Journal for Mothers and Daughters
And to all of you who have ordered copies already, thank you for your support!
Janene